China Has Biggest One-Day Stock Crash Since 2007
China's stocks tumbled, with the benchmark index falling the most since February 2007, amid concern a three-week rally sparked by unprecedented government intervention is unsustainable.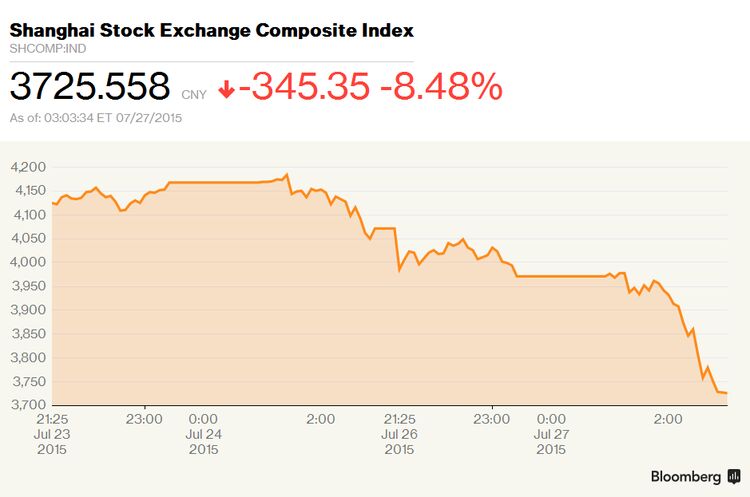 The Shanghai Composite Index plunged 8.5 percent to 3,725.56 at the close, with 75 stocks dropping for each one that rose. PetroChina Co., long considered a target of state-linked market support funds, tumbled by a record 9.6 percent. The rout dented investor confidence from Hong Kong to Taiwan and Indonesia, helping send the MSCI Emerging Markets Index to a two-year low.
Monday's retreat shattered the sense of calm that had fallen over mainland markets last week and raised questions over the viability of government efforts to prop up share prices as the economy slows. China's industrial profits fell 0.3 percent in June from a year earlier, the statistics bureau reported on Monday. The International Monetary Fund has urged China to eventually unwind its support measures, according to a person familiar with the matter.
"Investors are afraid the Chinese government will withdraw supporting measures from the market," said Sam Chi Yung, a strategist at Delta Asia Securities Ltd. in Hong Kong. "Once those disappear, the market cannot support itself."
The Shanghai gauge had rebounded 16 percent from its July 8 low through Friday as officials went to extreme lengths to halt a rout that erased $4 trillion from the nation's equities. Officials allowed more than 1,400 companies to halt trading, banned major shareholders from selling stakes and armed a state-run financing vehicle with more than $480 billion to support the market.
Brokerages Tumble
A measure of 30-day volatility in the Shanghai Composite jumped to its highest level since 1997, as more than 1,700 stocks fell by the daily 10 percent limit on the Shanghai and Shenzhen exchanges. The Hang Seng China Enterprises Index sank 3.8 percent, extending the world's worst decline in the past month. The Hang Seng Index fell 3.1 percent.
Brokerages led declines in Hong Kong, with Citic Securities Co. and Haitong Securities Co. tumbling more than 9 percent. China's overnight money-market rate climbed to the highest level since early May amid rising demand for funds as the end of the month approaches.
A gauge of industrial companies plunged by a record 9 percent, the most among the 10 groups on China's large-cap CSI 300 Index, which sank 8.6 percent. The slump in industrial profits last month compared with a 0.6 percent gain in May, according to data from the statistics bureau. For the first six months, earnings slid 0.7 percent.
Support Measures
June's equity market slump was very likely a contributor to the fall in industrial profits, according to Bloomberg Intelligence economists Tom Orlik and Fielding Chen. Chinese firms are major investors in the stock market. Back in May, when the National Bureau of Statistics was reporting rebounding profits, they acknowledged that investment gains were a big contributor.